Treatment, prevention and wellness
Spa hotel Iris
Luxurious spa and wellness, mineral springs, historical monuments, walks on colonnades. Spa stay in Carlsbad offers all of this.
Spa treatment supervised by a doctor, who understands your body and your soul.
"We adhere to the principle of "a healthy mind in a healthy body". Therefore, in the treatment we aim to cleanse the body and calm the mind. Our priority is to link both elements. That is why we use healing springs for drinking water treatment, we profit from local forests fresh air and we stick to the rest regime in a healthy environment of Karlovy Vary."
Mudr. Jurij Onisko
Hotel Manager and Chief Medical Officer
About the spa stay:
holistic approach to the treatment
drinking cure and procedures designed according to the client
curative stay under supervision of an experienced team
Spa Stays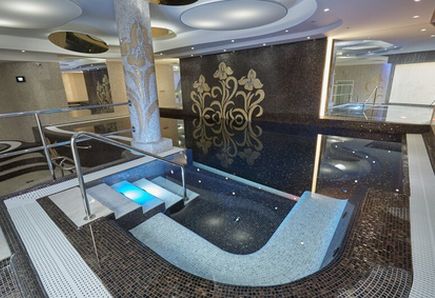 Hotel Iris is a hotel with an indoor pool to which we are adding sea salt. Swimming and relaxing wellness procedures function as a perfect addition to the active procedures.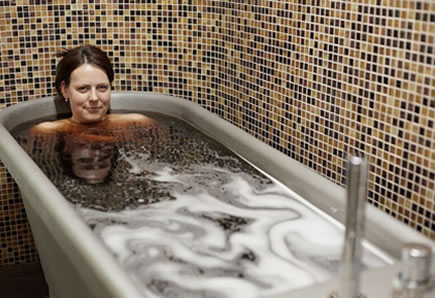 The spa in Carlsbad is the only one in the Czech Republic with an access to sterile thermal springs. The direct intake of the mineral spring is being used in the hotel for the drinking cure as well as hydrotherapy in the balneo complex.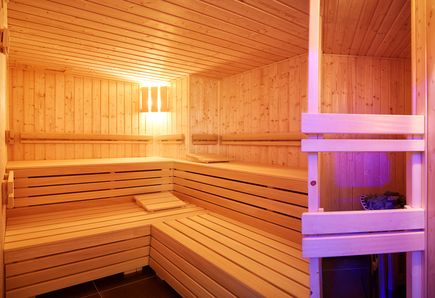 Daily access to the hotel's wellness centre consisting of a Finnish sauna, steam room, saltwater pool and a whirlpool is included in the spa stay.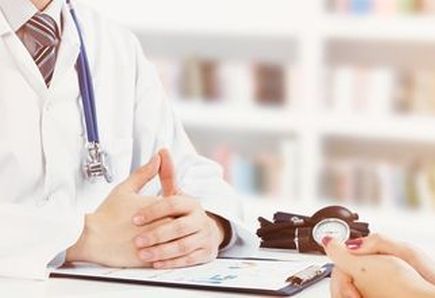 Our team of experts takes care of the patient in accordance with the doctor's prescription, which is always established on the basis of the patient's health status, previous diseases and peculiarities.
Let us take care of you. Do not worry about anything else.
Wellness stay in spa works as a prevention as well as a relaxing vacation. A combination of massages, sauna treatment and swimming in a saltwater pool brings relax and mental contentment.
About the wellness stay:
either a package of quality procedures or a selection according to your own wishes
a half board catering service of a top quality
unlimited access to the hotel pool
Wellness packs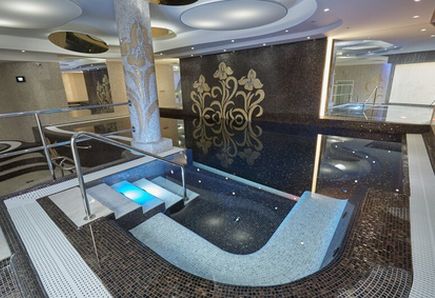 Spa hotel Iris is a hotel with a swimming pool with sea salt, counter-current and whirlpool. In the hotel's wellness centre, swimming can be perfectly combined with massages and sauna stays.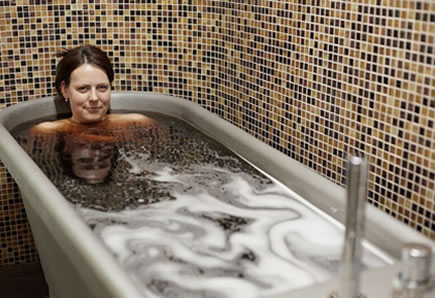 Choose a massage and entrust yourself to the hands of an expert, who will be spoiling you. Besides ordinary massages, we also offer underwater, reflexive and aromatic massages.
Comfortable accommodation and delicious food
Comfortable bedrooms and apartments, colonnades at your fingertips, food and spa procedures right in the hotel. Carlsbad is a perfect location for a comprehensive curative stay. Natural healing resources and active rest heal body and mind.
Prohlédněte si pokoje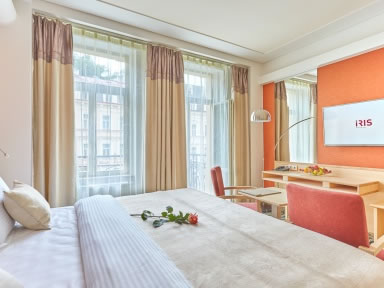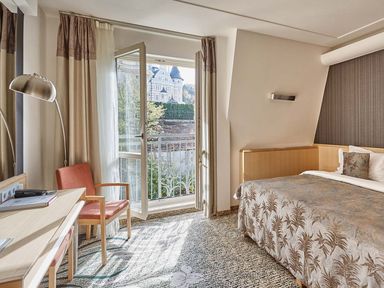 Four-star accommodation in Carlsbad
Restful sleep and comfortable accommodation is a matter of course in our hotel. The design of our furniture was created by a Czech designer Bretislav Kubicek. The symbol of the iris flower is repeated as a motif on carpets, windows and paintings.
Naše kuchyně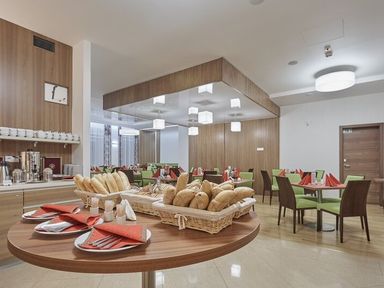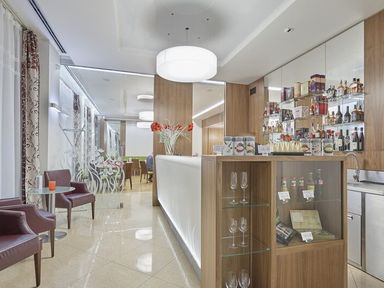 A balanced diet as a component of the treatment
A regular and colourful diet is one of the pillars of a healthy lifestyle. In our hotel restaurant, we will take care of a quality food supply, also considering your specific wishes or diet.
---
Spa hotel Iris in an exceptional location
What do you see when you hear Carlsbad? Spa? International film festival? Dumplings? The thermal spa in Carlsbad offers all of this. Hotel Iris is located in a walking distance from the most famous colonnades and mineral springs.
Colonnades in Carlsbad
Hotel Iris is located only a couple of minutes from the Sadova colonnade in the spa area of Carlsbad. You can spend your free time walking around the Market or the Mill colonnade, while engaging in the drinking cure at the same time.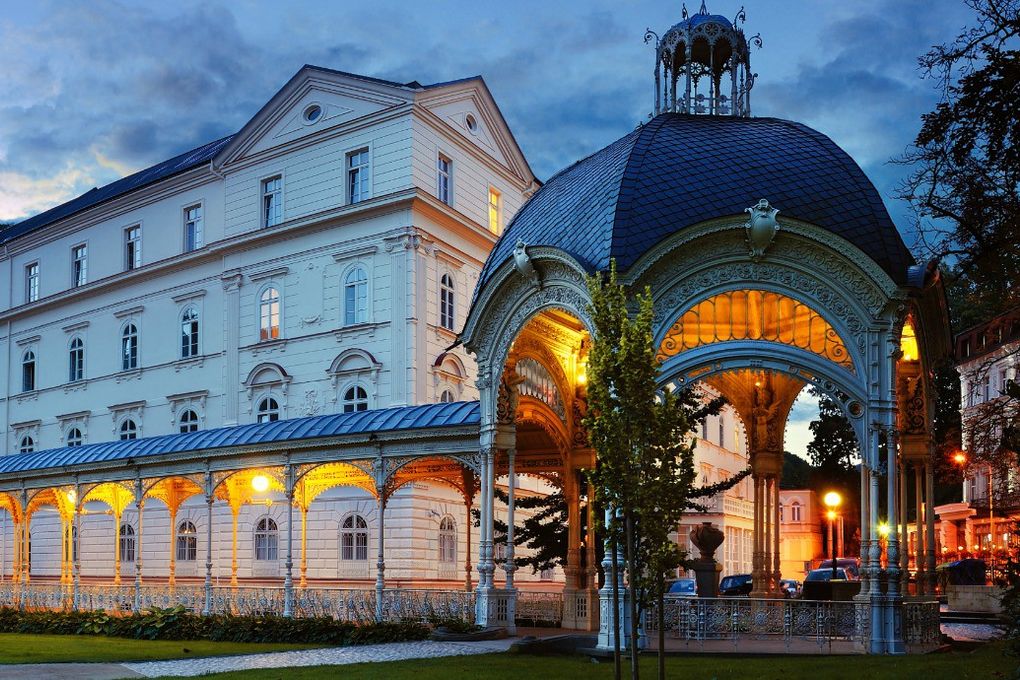 Carlsbad Museum and Art Center
If you are interested in the history of spa, you can choose from a rich selection of museum displays. For instance, we are recommending Jan Becher Museum or a multimedia historical display in the Carlsbad Museum.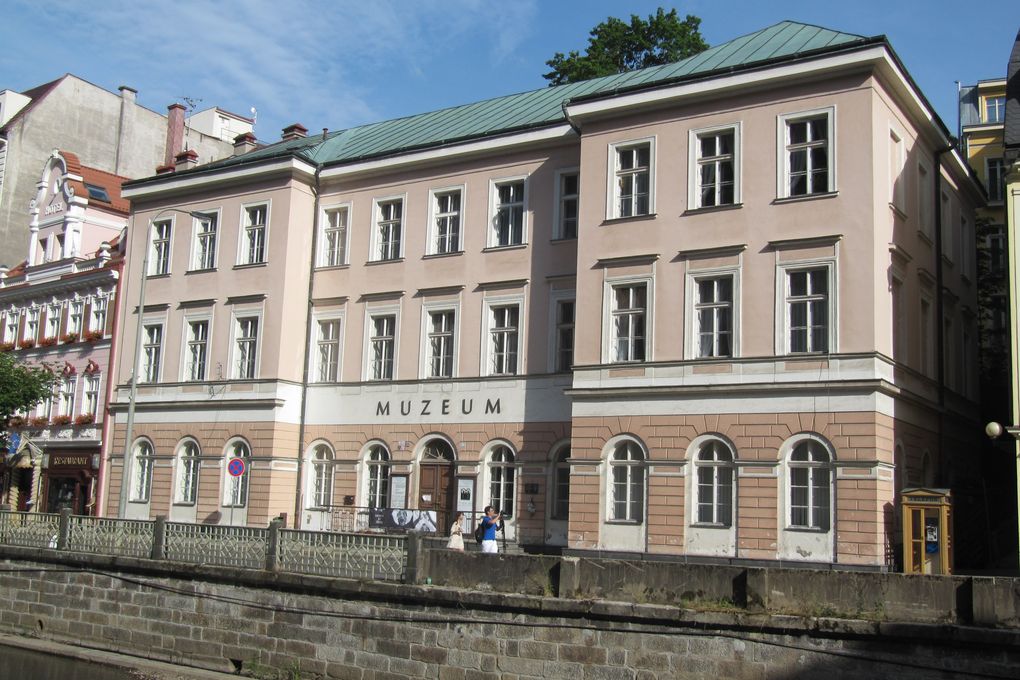 The Diana Observation Tower
The Diana Observation Tower offers an attractive view over the Carlsbad spa town and the nearby mountainside. To visit the observation tower, you can either walk up the hill or you can get there using the funicular located next to Grandhotel Pupp. Once you reach the top, you can treat yourself with a nice meal in a restaurant or with a visit of the Butterfly House.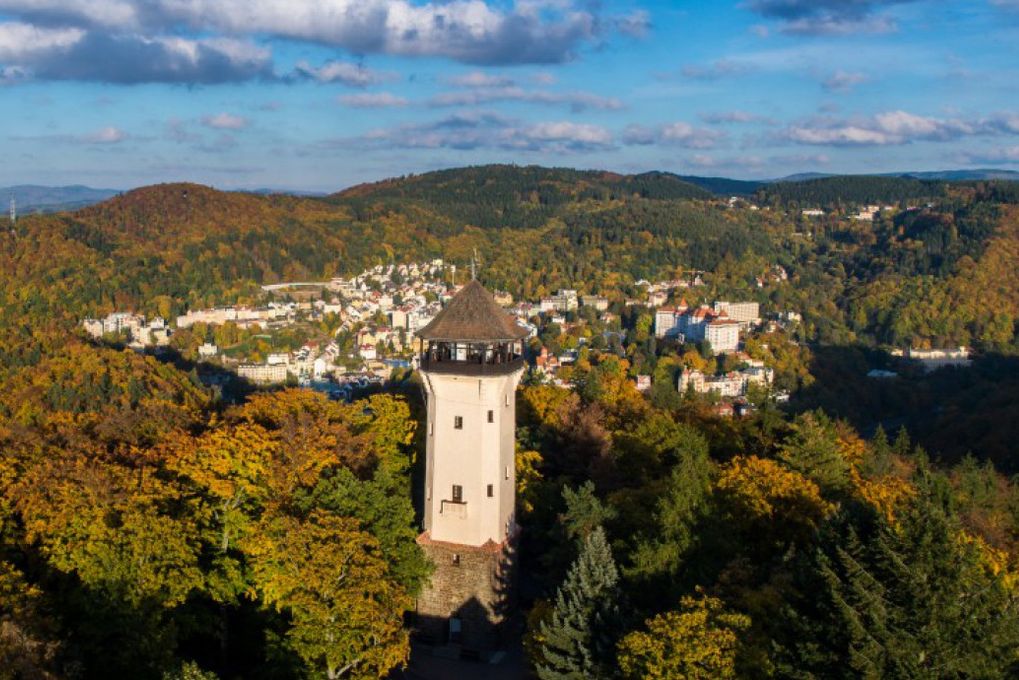 SOOS National Nature Reserve
To get to the SOOS nature reserve, which is located near Frantiskovy Lazne, will not take even an hour. There is a nature trail leading across the bottom of what once has been a lake, now transformed into peat bogs and moffettes.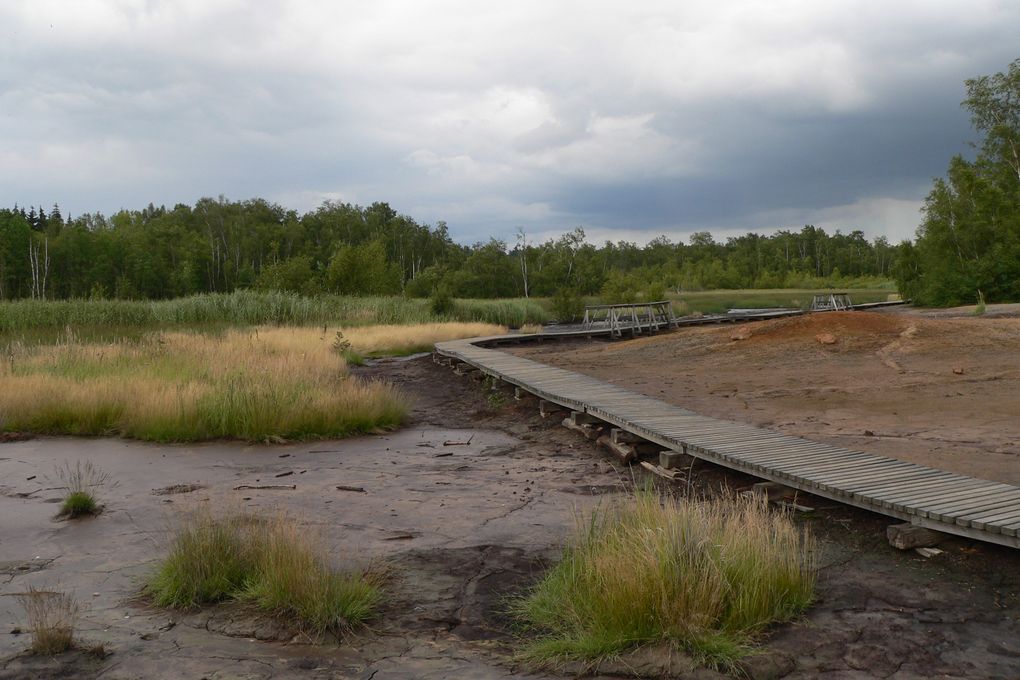 The Capital City of Prague
From Carlsbad to Prague in not even two hours! If you have traveled to the spa town from afar, dedicate a day in your schedule to the trip to Prague, a historical jewell with innumerable monuments, cafés, opportunities for romantic walks and cultural experiences.